7664292 Guascor biogas spark plug (Siemens S7664761)
Guascor spark plugs / Siemens spark plug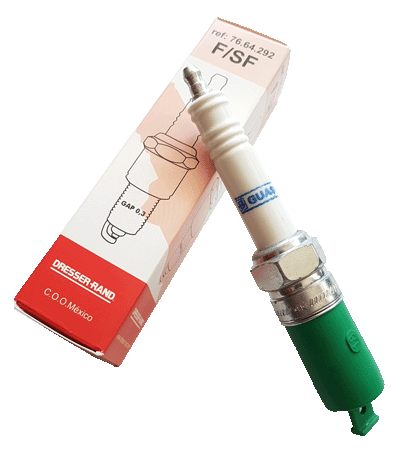 This biogas spark plug is specially designed for the Guascor SFGLD biogas engines, but also can be used in the Guascor SFGM series. New part number Siemens S 76.64.761
Spark Plugs Replacement Guide
1200rpm
1500rpm
1800rpm
REF
HOURS
REFERENCE DOCUMENT
HOURS
REFERENCE DOCUMENT
HOURS
REFERENCE DOCUMENT
FG/ FGLD natural gas
76.64.291
1250
IO-G-M-00-073
1000
IO-G-M-00-074
76.64.375
5000
4000
FG/ FGLD biogas (*)
76.64.292
1250
IO-G-M-00-073
1000
IO-G-M-00-074
76.64.375
5000
4000
SFGLD natural gas
76.64.375
4500
IO-G-M-00-067
3750
IO-G-M-00-065
3000
IO-G-M-00-066
SFGLD natural gas ISLAND
76.64.375
7500
IO-G-M-00-057
6000
IO-G-M-00-038
4500
IO-G-M-00-058
SFGLD natural gas PRIME
76.64.292
1000
IO-G-M-00-061
SFGLD natural gas STAND-BY
76.64.292
1000
IO-G-M-00-019
SFGLD biogas (*)
76.64.292
1250
IO-G-M-00-067
1000
IO-G-M-00-065
1000
IO-G-M-00-066
76.64.375
4500
3750
3000
SFGLD natural gas LCR 9,3:1
76.64.292
1250
IO-G-M-00-034
1000
IO-G-M-00-024
800
IO-G-M-00-035
76.64.375
5000
4000
3200
SFGLD natural gas LCR 8:1
76.64.292
2000
IO-G-M-00-024
1600
IO-G-M-00-035
SFGLD syngas (**)
76.64.292
800
IO-G-M-00-042
700
IO-G-M-00-003
600
IO-G-M-00-043
76.64.375
4000
3500
3000
SFGRD natural gas
76.64.292
1000
IO-G-M-00-062
SFGRD natural gas PRIME
76.64.292
1200
IO-G-M-00-063
SFGRD natural gas STAND-BY
76.64.292
1000
IO-G-M-00-064
HGM natural gas
76.64.604
3500
IO-G-M-00-072
3500
IO-G-M-00-070
3500
IO-G-M-00-071
HGM biogas
76.64.604
3500
IO-G-M-00-072
3500
IO-G-M-00-070
3500
IO-G-M-00-071
SFGM natural gas
76.64.685
3000
IO-G-M-00-068
3000
IO-G-M-00-069
SFGM natural gas ISLAND
76.64.685
4800
IO-G-M-00-051
4800
IO-G-M-00-059
SFGM biogas
76.64.685
3000
IO-G-M-00-068
3000
IO-G-M-00-069
SFGM propane
76.64.356
3000
IO-G-M-00-040
3000
IO-G-M-00-041
SFE ethanol
76.64.292
4800
IO-L-M-00-001
In case the engine is operating at variable speed always select your spark plugs in reference with the highest speed range.
(*) In case the variation of the LHV of the utilized biogas exeeds 10 per cent it is recommended to used 76.64.292 (S7664761) spark plugs.
(**) In case of very contaminated gas it is recommended to use 76.64.292 (S 76.64.761) spark plugs.
Verified 2021 February